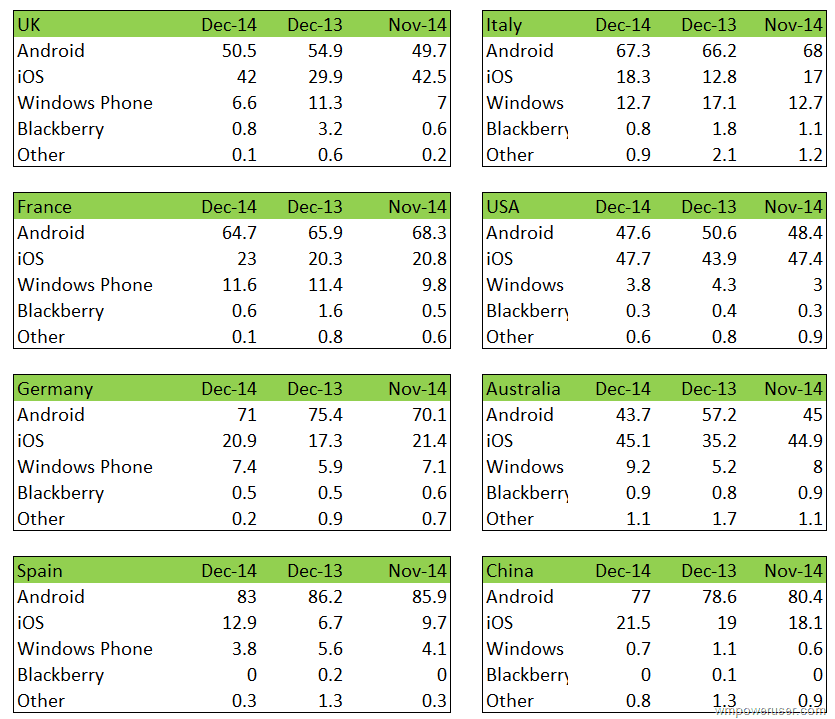 Kantar has released their usual smartphone market share numbers for the 3 months ending December 2014 ie Q4 2014.
In last months numbers Windows Phone (and Android) was being severely battered by a resurgent iOS, but things are looking a bit brighter in December.
Except in UK and Spain Windows Phone's market share either stayed the same or usually improved, with France particularly noteworthy for getting back into double digits there and Australia showing quite a robust improvement also.
In UK, one of Europe's biggest smartphone markets, Windows Phone is still suffering quite a bit, particularly Year on Year, and in Italy also things looked better in 2013 than 2014.
Overall Windows Phone held 8.9% market share in the EU5 countries in December, down only 1.4% from December 2013.  This should be compared to Android, which is down 3.8% and iOS, which is up 6.2%
Hopefully overall the numbers do indicate some resilience, and going forward, with new, even cheaper devices being released, we will see some market share improvements in Q1 and Q2.
What do our readers think of the numbers?