Its a relatively quiet Easter today, which seems to be a good time to revisit our old friend Statcounter.
While the service does not have the best record for consistency of data, with a history of strange and massive spikes, it does usually give a good indication of the trends in the market.
After the recent positive Kantar smartphone sales data, I took a look at Statcounter's results over the period, and it appears to reflect the same positive trend.
As can be seen in the graph above, Windows Phone's steady market share in the region has led to a consistent increase in its web usage share over the period, rising from 3.48% of usage to 3.77% of usage. Of note is that iOS dropped from 30.97 to 29.41% over the same period, while Android grew from 61.68 to 63.04%. This once again suggests Windows Phone is winning new converts while iPhones are selling to existing users, who are therefore not increasing its usage share and installed base.
Looking the main EU5 countries, the trend is broadly reflected in most, except for Spain, which actually saw a drop in share.
In UK there has been a steady increase in web usage share, reflecting the increased number of Windows Phone users there, which is expected to reach 3 million during 2015.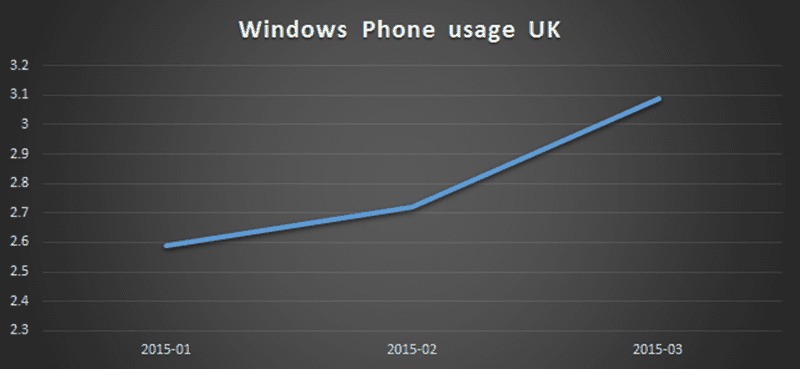 France also saw a significant increase over the period, and appears to be an even stronger market for Windows Phone.
Germany showed an even more consistent increase: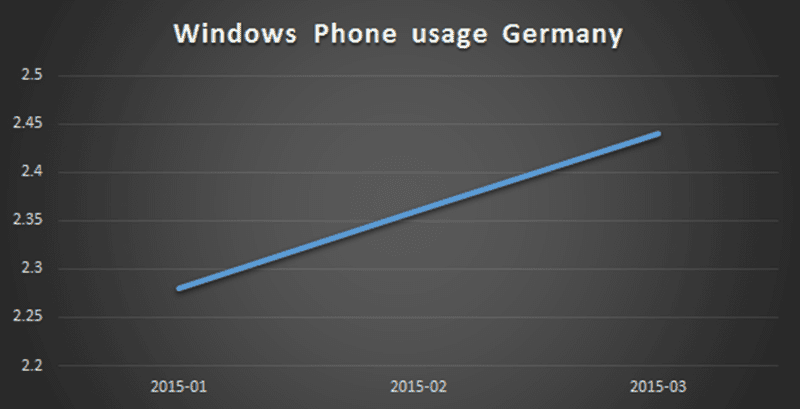 Italy appears to be on the rebound, and has the highest absolute usage, at 6.7%.
Spain however seems to be on a steady downward trajectory.
Interestingly it seems Windows Phone has survived the transition from being a Nokia brand to a Microsoft brand in Europe much better than expected, which will hopefully set up the OS for continuing growth in the future.