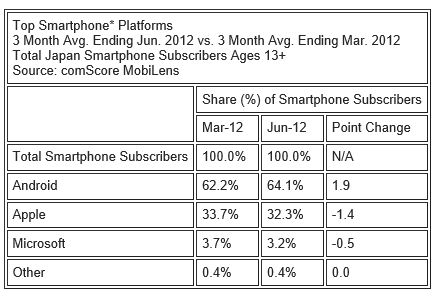 comScore today released data on Japan mobile phone industry during the three month average period ending June 2012. Microsoft's Windows Phone platform lost 0.5% to capture 3.2% of the smartphone market.
On the device OEM front,  Sharp came on top with 22.6% subscribers, followed by Panasonic with 13.6%, Fujitsu with 11.8%, NEC with 8.9% and Sony with 7.9%.
Like in US the number likely reflects Windows Mobile and Windows Phone installed base, and other than Fujitsu, no other vendors have Windows Phone devices planned and so don't expect Windows Phone's market share to grow in coming months in Japan.
Source: comScore
Thanks Arun for the heads up.