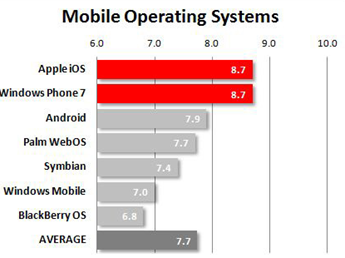 PCMag has posted the results of their annual Readers Survey, and unlike most surveys this one is from readers chosen at random who actually own the handsets and administered by an  accredited polling company.
Last year Windows Phone did very well, scoring 8.1/10 in customer satisfaction, vs 8.4 for the iPhone.
This year Windows Phone did even better, matching the iPhone overall at a customer satisfaction score of 8.7 for both handsets.  Android remained 7.9 and did not improve at all from last year.
In fact the handset with most satisfied users on AT&T is not the iPhone, but a Samsung Windows Phone 7 handset.
On Verizon the venerable HTC Trophy is as appreciated as the iPhone 4 and 4S, making it the little handset that could.
Windows Phone scored better than the iPhone  in several key areas, including reliability, text messaging, Web browsing, and gaming. Apple's iOS, however, rates substantially better than Windows Phone for satisfaction with the quality and availability of apps and its music player.
Windows Phone 7 users are also least likely to need technical support (20%) vs 25% for iOS and 32% for Android.
With the iPhone, Windows Phone 7 received a PCMagazine Editor Choice award for "providing a winning experience."
The survey makes for fascinating reading, with more available here.
Via TNW.com