Tech-thoughts have performed an interesting and detailed analysis of the impact of the iPhone on carriers, and on whether current levels of subsidies per phone of around $400 are sustainable.
They have shown that carrier subsidies are directly related to the market share of the iPhone – where subsidies are the highest iPhone market share were the highest, and the opposite also. Examples include the high subsidies in US which sees the iPhone having 43% market share recently, compared to mid-range subsidies in Germany, where the iPhone has 19% market share, to Spain, where with no subsidies the iPhone only has 5% market share.
They have also found that the iPhone costs carriers a huge amount in subsidies, while saving very little money in reduced churn (the first graph).  This has resulted in carriers making increased moves to reduce iPhone subsidies to more sustainable levels.
As examples they note:
1) The push started with US carriers increasing upgrade fees for customers who wanted to switch phones and increasing data subscription charges.

2) Verizon has told its subscribers that their current unlimited data plans will only remain available for customers who buy phones at full retail price, i.e. with zero subsidies.

3) AT&T made the boldest move, by announcing its intention to limit 2011 smartphone sales to 2012 levels, and most importantly push to reduce subsidies on phones it currently sells. Given that the iPhone accounted for 78% of AT&Ts Q1 2012 smartphone sales, that push is obviously going to be against the Apple.
Steve Ballmer even now gets a lot of ribbing for predicting a low market share for the iPhone, but that quote of course comes from the brief period when the iPhone was being sold for $500 to $600 unsubsidized, while still locked to a two year contract.  He said:
"There's no chance that the iPhone is going to get any significant market share. No chance. It's a $500 subsidized item. They may make a lot of money. But if you actually take a look at the 1.3 billion phones that get sold, I'd prefer to have our software in 60% or 70% or 80% of them, than I would to have 2% or 3%, which is what Apple might get."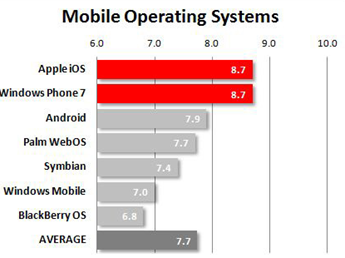 Tech-thought's analysis finds, without subsidies, the iPhone would in fact only have around 6% market share, not far off Ballmer's prediction.
With the moves by carriers to reduce iPhone subsidies (not to generate a competitive environment, but for the more practical reason of reducing their losses) a reduction in iPhone market share is inevitable.  This gap will be filled by mostly Android handsets, but it is also likely Windows Phone will benefit.
With Windows Phone closes to the iPhone in terms of customer satisfaction, if Microsoft (and Nokia) can market themselves as the next best thing to the iPhone in terms of reliability and ease of use, but still much cheaper,  there is every chance Windows Phone could preferentially take up lost iPhone market share, which may help Windows Phone reach that 2015 goal of finally overtaking iPhone market share.