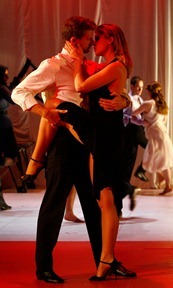 Mary Jo Foley answered a question which has been turning over in my mind these last few days.
There has long been a rumour that there would be two Tango updates for Windows Phone, Tango 1 and Tango 2.
At the time we wrote:
Tango 1 to broaden the markets addressed by Windows Phone 7 by adding additional language support and so forth, much like Mango did, but to even more countries.  Apparently Nokia is heavily involved in this, as these markets are their bread and butter.

Tango 2 will be targeted at low-cost devices and include fixes and new features, as well as services and language support for markets that still won't have been addressed after the Tango1 release.
The Nokia Lumia 900 was announced as running Windows Phone Mango Commercial Release 2, and I am sure some, like myself, suspected this was Tango 1.
Now Mary Jo Foley has been able to confirm with Microsoft that Mango Commercial Release 2 is just Mango plus the 8107 "keyboard fix" service release.
Paul Thurrott has been spearheading a rumour that Tango will not be coming to all handsets, and given the brief above it may not bring much that we will miss in any case.
Read more at ZDNet here.