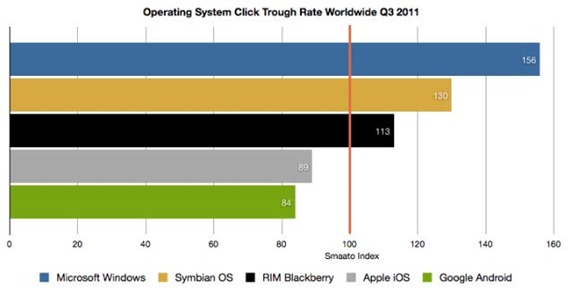 Smaato today released their mobile advertising quarterly metrics for Q3 2011. Windows Phone came on top in ad CTR rates and its for the third time in the past three quarters Windows Phone leads the way among other smartphone platforms like iOS and Android. This is a good news for existing developers and it also tempts other platform developers to consider Windows Phone for their development. Ad-based applications are now on the rise in Windows Phone marketplace which will benefit from this high click through rates.
Elaborating on the recent Microsoft/Nokia partnership, Ragnar Kruse, Smaato's CEO and Co-founder said:

"It will be interesting to see how the new Window Phone partnership will play out related to mobile advertising performance. Nokia and Microsoft have a great opportunity to establish a viable third ecosystem. They will have to establish a new niche ecosystem for the customer, however, the combination of security, established systems and a new look could be very popular in Europe & Asia."

Kruse further explains, "Developers are advised not to overlook the Nokia/Windows combination as it might be a platform that is easier to monetize, will have less threats of piracy as it will be a more closed ecosystem, and will also offer more cohesiveness."
You can read the full report here.
via: Techcrunch