As Windows Phone was  officially launched in India today with marketplace support, Microsoft's OEM partners are starting to release their Windows Phone based devices. I guess Samsung Omnia W which was launched in India with an aggressive pricing of Rs.19,900 is definitely going to make some splash in sales. There are very few devices in India which has comparable specs with this level of pricing. According to ET's review of Samsung Omnia W,
At the price, the Omnia W has the opportunity to make fast inroads into the smartphone populace, especially for those who want something other than Android.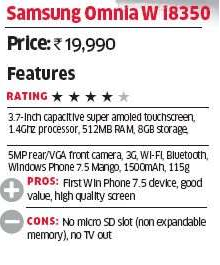 Samsung Omnia W will go on sale from next month. Along with this, HTC is launching HTC Radar device for Rs.23,990. You can find more details on it here. Acer is also joining the list with Allegro in November. Microsoft partnered with local companies such as TOI, Snapdeal, Cricinfo,etc, to launch Windows Phone apps  in the marketplace.
That's a good start for the new platform.