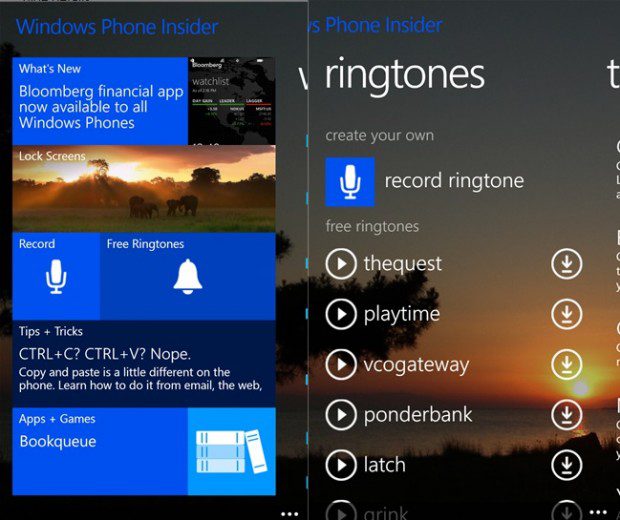 Windows Phone Insider app has got a nice facelift update few weeks back which we didn't notice. This app now features a new UI with features like record your own ringtone, etc,.
App Description:
We've rebuilt the Insider app for Windows Phone 8 to give you more ringtones, lock screens, tips, and news for your Windows Phone. This official Microsoft app is faster and better than ever:

• Record your own ringtone: Record your favorite sound and easily set it as your ringtone.
• Exclusive ringtones: 5 new ringtones every month.
• Free lock screens: Enjoy Bing's image of the day and Windows Phone fan photos. Submit your own!
• What's new: Stay up to date with announcements from the official Windows Phone Blog and Facebook page.
• Apps + Games: 10 new recommendations every week, plus behind-the-scenes posts on favorite ones.
• Tips: Get bite-sized tips to learn how to better use your phone.

Pin Insider to your Start screen. The app tiles use your theme color to display the headline from the newest blog article and the Bing image of the day.
Download it here from Windows Phone Store for free.
via: WPC