Now that we have access to the full AdDuplex results, we can see how Windows Phones are doing worldwide. This time, I'll be focusing on flagships and the "first world". There's a meme going around that Windows Phones see no success on the high end and that the low end is where they lie. First of all, that's not true. Windows Phone is similar to Android in price breakdown and iOS…well iOS only has high-end devices.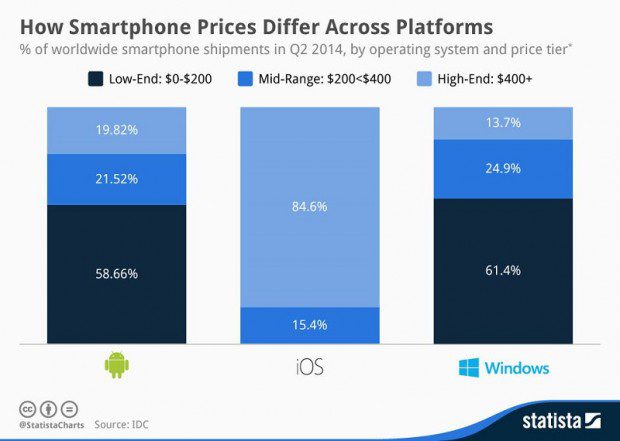 These stats along with today's AdDuplex ones show a nuanced picture in the market where high end devices are bought.
In the US the high-end phones make up about 20 percent or more of the Windows Phone marketshare. 20 percent because devices like the HTC One M8, Samsung AtivSE and Lumia Icon surely make up at least 2 percent of devices sold.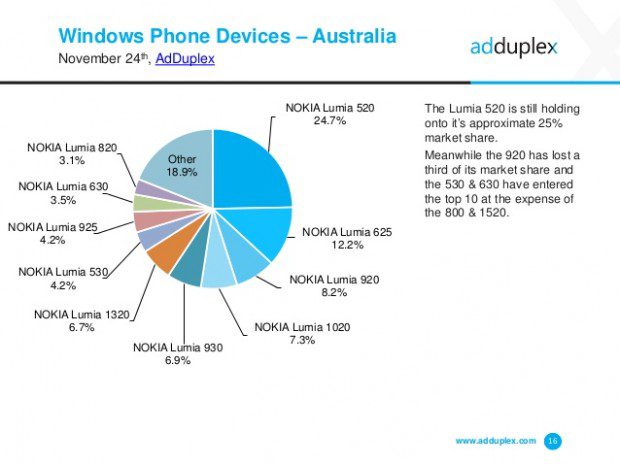 Australia is the biggest outlier here, high-end and flagship devices make up nearly 30 percent of all Windows Phones sold here, even including the 930 which is at 7 percent.
For the other first world countries that data was provided for however, we get more or less the same data. The 9xx series are consistently in the top 10 Windows Phone sold and make up 10 percent of the total sales.
From this data, I find it hard to support the proposition that low end Widows Phones are the only ones worth fighting for.  As we can see, the flagship Lumia 920 has staying power in all markets. Its clear from this that a well done, well marketed high end Windows Phone can make a splash in the market. However, this popularity may come back to bite them later on. With all the 920s out there and no clear flagship that stands out, 920 owners may upgrade to an iPhone or Android and Microsoft may watch the ASPs of Windows Phones tumble even more.
Images via IDC and AdDuplex