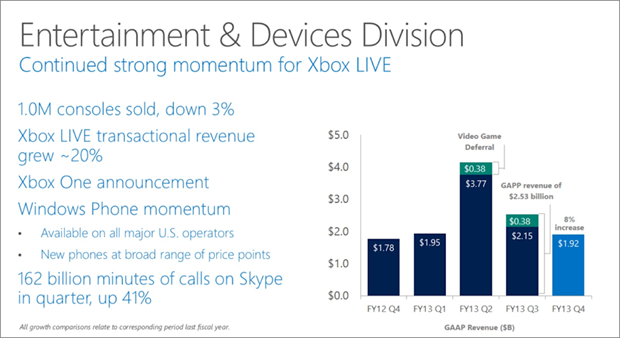 On the eve of Microsoft's restructuring, which would seem Windows Phone folded into the same division as Windows, Microsoft has acknowledged their mobile OS made a significant contribution to the $1.92 billion revenue of the Entertainment and Devices Division.
The group, which is responsible for the Xbox also, beat their Q4 2012 performance by $134 million, and Microsoft writes that much of this was driven by a $222 million increase in Windows Phone revenue and patent licensing. The improvement in that area was off-set by lower Xbox 360 platform revenue due to the aging platform.
The numbers do not unfortunately let us know how much Windows Phone is earning for Microsoft, but I suspect in another 4 quarters the OS will finally be joining Microsoft's billion dollar business club.
Via AWWP