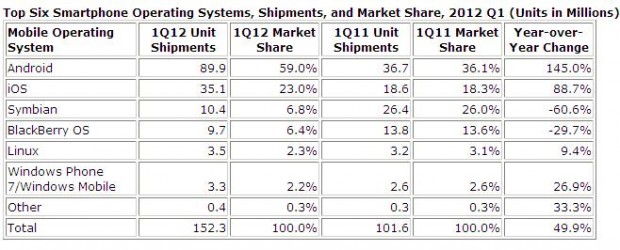 According the IDCÂ Worldwide Quarterly Mobile Phone Tracker released today, combined Windows Mobile and Windows Phone shipments increased from 2.6 million in Q1 2011 to 3.3 million Q1 2012. Absolute market share dropped slightly from 2.6% a year ago to 2.2% now, but is up sequentially from 2.1% in Q4 2011 to 2.2% in Q4 2012, with shipments remaining flat from 3.3 million in Q4 2011.
IDC commented about Windows Phone platform in their report as follows,
Windows Mobile/Windows Phone has yet to make significant inroads in the worldwide smartphone market, but 2012 should be considered a ramp-up year for Nokia and Microsoft to boost volumes. Until Nokia speeds the cadence of its smartphone releases or more vendors launch their own Windows Phone-powered smartphones, IDC anticipates slow growth for the operating system.
It is of note that besides Android, which actually increased shipments by 2 million, Windows Phone was the only mobile OS to maintain shipments sequentially, while the other mobile operating systems, including iOS, Symbian and Blackberry all saw sequential reductions in shipments after the holiday season.
Hopefully going into Q2 2012 we will see this translate into an upward trend in actual sales and further market share gains in the rest of the year.
Source: IDC