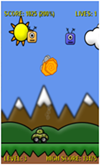 Microsoft has updated their Windows Phone 7 Developer Training Kit, which can be used to developers trying to get a head start on writing for the Windows Phone 7 Marketplace.
This release includes Windows Phone MIX10 videos as well as one new lab. The lab introduces a new module- Using Push Notifications which features an end-to-end scenario for a simple weather application that register to receive Push Notifications as well as a WPF client application that mimics the 3rd party backend server.
Further labs (all updated) include:
Hello Phone – This lab intends to be the classic "Hello World" application, introducing developers to the tools and procedures required to build and test Silverlight for Windows Phone applications.
Building Your First Windows Phone Application – This lab introduces developers to the basic building blocks of any Windows Phone Silverlight application.
Windows Phone Navigation and Controls – This lab introduces developers to the Windows Phone layout system, the phone's chrome, and few new controls.
Game Development with XNA Framework for Windows Phone – This lab introduces developers to XNA game development on Windows Phones, as well as to the basics of XNA game development.
Developers can download a local copy of the training kit, or can go to the online version on Channel 9.
Read more at the Windows Team Blog here.