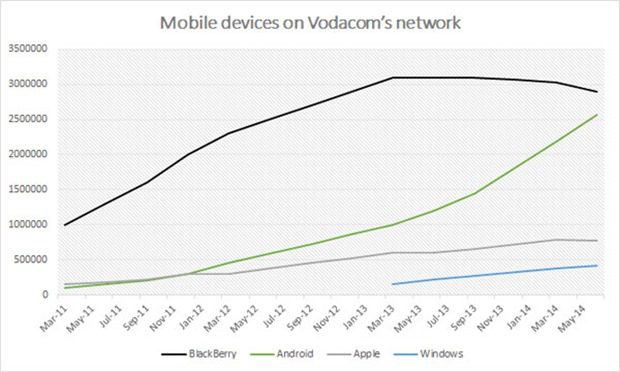 South African carrier Vodacom has published their regular smartphone ownership stats for their network, and it reads as good news for Windows Phone.
The OS is making steady progress there, increasing by 35,000 users in the last 3 months, and 140,000 over the last 9 months.
Mobile devices by type
Device
September 2013
March 2014      
June 2014
3 month change
BlackBerry
3,100,000
3,030,000
2,895,000
-135,000
Android smartphones and tablets
1,450,000
2,190,000
2,560,000
370,000
Apple smartphones and tablets
650,000
785,000
775,000
-10,000
Windows
270,000
375,000
410,000
35,000
Of course its growth is not as explosive as Android, which added 10 times more users, but reads as much better than Blackberry, which lost 135,000 users in the last 3 months, and iOS, which is down 10,000 users.
Vodacom CEO Shameel Joosub said the number of active smartphones and tablets on their South African network increased 19.3% to 8 million devices, giving Windows Phone around 5% ownership share.
The lull in Windows Phone growth is likely due to the lack of new products over the last quarter, and hopefully the launch of the Nokia Lumia 630 and 930 will help boost growth to a higher rate once again.
Via Mybroadband.co.za, thanks Patrick for the tip.