According to AdDuplex data, Windows Phone 8 handsets are now 80% of the Windows Phone installed base, indicating both the growth of the Windows Phone installed base with new handsets, and presumably older Windows Phone 7 handsets being rapidly retired.
As a pointer to the first scenario, the Nokia Lumia 520 has also continued to grow as a proportion of all Windows Phones, with 1/3 of Windows Phones now being a Nokia Lumia 520, suggesting also significantly more than 10 million of these handsets have been sold.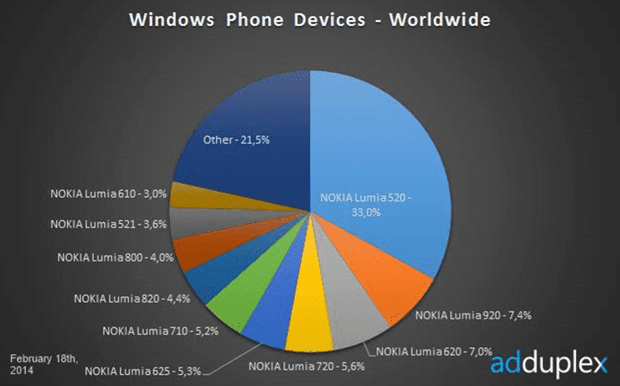 Also significant is that another low-cost handset, the Nokia Lumia 625, has also continued to grow, and is now a solid 5.3% of handsets, and should soon pass the 720 and then 620, showing the combination of low cost and large screen is clearly attractive, which should bode well for the 1320.
Unfortunately Nokia's new generation of high end handsets have still to make an impact, and even the Nokia Lumia 1020 still has to break the 3% mark, though it is now in fact more popular than the Nokia Lumia 925 in USA.
The full AdDuplex report will be available tomorrow.