Windows Phone 8 Emulator Demonstration 2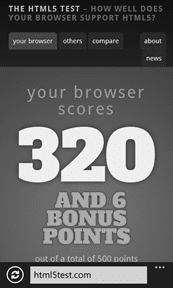 Windows Phone Hacker have uploaded the above video, part 2 of his tour of the Windows Phone 8 Release Candidate SDK emulator.
In this video he answers some questions, most unfortunately to the negative, but does show the HTML5 score has increased by 1 point from 319 in the last emulator in September to 320 in this one.  He notes however features such as uploading from the browser remains unsupported.
Jaxbot also demoes switching the reload and stop button in IE10 with the Tabs button for easy tab switching.
Also new is the ability to attach location to your SMS messages, which appears to send a handy Maps link.
Also interesting is the ability to side-load apps from a web page via the Company App, and one can easily imagine a group of homebrew  WP8 users setting up a "company" to allow them to easily share homebrew apps.
Keep an eye on Windows Phone Hacker here for more.