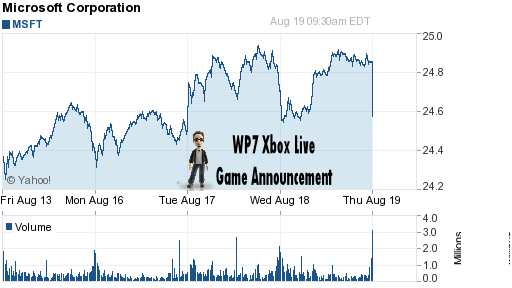 The announcement of Microsoft's Windows Phone 7 Xbox Live line-up has resulted in a short term boost in Microsoft's share price, with stocks rallying 1.4%, adding another $3.6 billion to the company's $213.5 billion market cap between Monday and Wednesday.
Microsoft has been criticised much in the past for not capturing the imagination of investors and creating excitement around the company and its future value, but it appears the marriage of Xbox Live and Windows Phone 7 has delivered just such a boost, and has resulted in much improved sentiment regarding the company's chances of competing effectively against the iPhone and Google's Android.
Of course we are not financial advisors, but I expect a good launch will see a pretty good boost in Microsoft's financial position, even if the company does not get much direct revenue from Windows Phone 7.
Some-one who is a financial advisor, David Hilal fromFBR Capital Markets, agrees, noting, amongst other factors:
…. a successful Windows Phone 7 launch this holiday season and steady traction of Azure should improve the sentiment around the stock and lead to multiple expansion.
For those who wonder how Microsoft justifies spending so much money on a low revenue enterprise such as Windows Phone 7 licensing, it should be clear, for the sake of share holder value, Microsoft can not afford to be left out of the game, and also can not afford to fail.
Read more on that at IBTimes here.