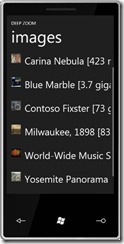 While our last post may make it appear we feel Apple's latest OS has Microsoft's soundly beaten there are still some areas where Microsoft, even at this early stage is ahead.
One is the social network integration, which sees Microsoft as more outward facing, embracing multiple social networks suck as Facebook and Flickr. Apple has persistently decided to go it alone, even when faced by the whole industry embracing Facebook for example.
The next is the ability to leverage an existing gaming social network in the form of Xbox Live, which has a pretty fanatical following.
Windows Phone 7 will of course still support more form factors that the iPhone, which is likely locked pretty much into its current shape.
Windows Phone 7 also has some new UI paradigms which seem to be catching on pretty nicely.
Lastly, embracing web technologies like Silverlight and Flash may give Windows Phone 7 developers a leg up in bringing apps rapidly to market.
Are there other advantages I have missed? Let us know below.