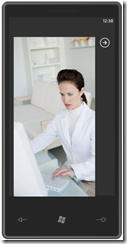 In a blog post Charlie Kindel admitted their message on the consumer focus of Windows Phone 7 may have been misleading regarding the suitability to business of the OS
We are building a phone that will be GREAT for helping end-users deal with BOTH their personal & business lives.

Windows Phone 7 Series will be a great business phone. We applied the same end user focus to designing the phone's business capabilities that we did with every other element of the phone. We asked people and even IT administrators what they need from a phone. The answer was consistent. They want a single device that excels at core business functions like email, reading and editing Office documents and collaboration, while also offering rich features and capabilities that help people stay on top of the different parts of their lives, at home and at work.

We expect Windows Phone 7 Series to appeal to people who are active, connected and working, so Exchange & SharePoint integration and the features within the new Office hub are core to the phone's value. Similarly, we know that people add these phones to corporate networks and that we need to make that process easy for administrators. Interestingly, when we talk to corporate IT staff and business decision makers they ask us to give them a compelling phone that will not only improve productivity,  but also appeal to the end user's "whole life," as people wish to carry only one Smartphone to meet both business and personal needs. We think Windows Phone 7 Series will do this better than any other phone on the market today.
While the post of course remains vague, it does hint strongly at business management features as already common with Windows Mobile, and we of course already know business handsets will be exempt from the Marketplace-only rule that applies to everyone else when it comes to apps.
It is however clear that, unless Microsoft transplants bits of code wholesale from Windows Mobile 6.5, the handsets are unlikely to have as many business-targeted features as its older existing sibling has. They clearly have a lot of work to do to make the OS suitable for work, not least cut and paste functionality.
Read the full post here.