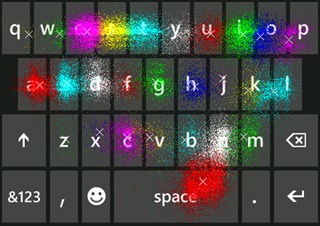 We all know the Windows Phone 7 keyboard is good, but even I am surprised by the behind the scenes sophistication of the software.
Much of the technology of the Windows Phone 7 soft keyboard came from work by Microsoft Research, and employs a variety of techniques to increase accuracy.
"We wanted to have the best text-input solution in the world. When it comes to digital communication, the task of getting an idea from your head to the keyboard is really important." said Eric Badger, from the Windows Phone 7 team.
The current soft keyboard was developed using machine learning, statistical models of language, and data collected from user experiments which eventually turned into the Text Text Revolution game, released by a member of the team.
By combining statistical models of language patterns and touch points, the keyboard dynamically changes the virtual size of the likely next letter, so that it has a larger target area—the area where tapping the keypad results in a particular letter, symbol, or number.
In upcoming releases, the keypad even will take into account the speed at which a person is attempting to type.
"When you're typing really fast with two thumbs, the touch patterns are sloppy, so you have to make the target area even bigger."
The statistical prediction algorithm of the keyboard even knows when to back off.  When you type in the direct centre of the letter you will always get the letter you typed, rather than what they algorithm thinks you want, and when it comes across what appears to be an unfamiliar word it will be less eager to suggest words. 
"The quality of the keyboard has been amazing, thanks in large part to those who designed the Splash user-interface framework and those who tuned and optimized the touch pipeline. We've gotten a lot of really positive feedback."
Read a lot more about the keyboard at Microsoft Research here.