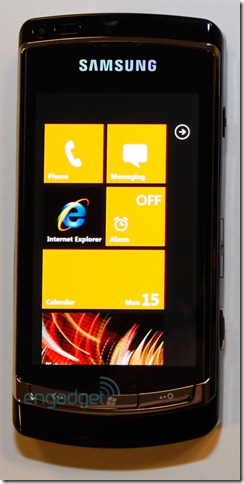 At MIX10 Microsoft has revealed the minimum specs of all Windows Phone 7 Phones, and they seem quite up to date for a 2010 phone, except possibly the memory requirements, which seems quite low for a Windows Mobile smartphone these days.  Of course, on the other hand, Windows Phone does not multi-task, so maybe it will not need that much RAM after all…
The specs are:
Capacitive Touch: 4 or more contact points
Sensors: A-GPS, Accelerometer, Compass, Light, Proximity
Camera: 5 megapixels or more, Camera  with a flash and dedicated camera button
Multimedia: Common detailed specs, Codec acceleration
Memory: 256 MB, 8 GB Flash or more
GPU: DirectX 9 acceleration
Processor: ARMv7 Cortex/Scorpion or better
2 screen sizes: 480×800 WVGA, 480×320 HVGA
Keyboard: Optional
Hardware Buttons: Must be fixed on the face
Is the template missing anything in particular? Let us know below.
Via FuzeMobility.com