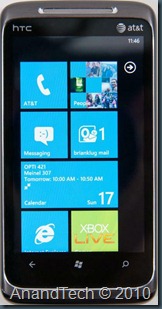 As I read reviews of Windows Phone 7, it is intriguing to see the varied responses from the usual suspects. I love reading the difference in opinion between the cynicism of "expert bloggers" and the excitement of the average people as illustrated by MobileCrunch's, Greg Kumparak friends in this quote from his review
Windows Phone 7?s user interface takes as rapid a departure from its predecessors as is possible. Hell, it's a pretty huge jump from any mobile OS before it…

Why do I think this? Because of my girlfriend…

Her reaction to Windows Phone 7: "Whoa! This is pretty." She then spent 45 minutes with it, stopping only after I realized she was trying to commandeer my review unit. The interface just seemed to make sense to her…

Not wanting to base my opinion off one anecdotal piece of evidence, I shared the phone with a bunch of others. Relatives. The lady at the coffee shop. The dude who works security in our parking lot. All of'em had the exact same reaction: the interface just… made sense. It blew my mind.
I bet most of our readers have browsed through the major sites but I would like to recommend two that do the new OS Justice.The first one is Paul Thurrott's on his Supersite for Windows blog. He goes in-depth about the WP7 features and how they compare with the competition but also highlights  a few flaws that need to be addressed. The second one from Anandtech is the most comprehensive and will give you all the information you need to know about WP7 including almost every screenshot of the OS. I highly suggest these two especially if you are trying to explain WP7 to your friends.
I do not care for engadget's review because it basically comes down to if its not Apple its not good (IMHO). I would like to see what kind of Ad campaign Microsoft has planned because I have yet to see anything on TV. I was somewhat worried with the post earlier today about Vodafone's laissez-faire attitude towards promoting the phone but then I read this article about at&t planning to dedicate a wall to WP7 in every store and that gives me some hope at least stateside. Just curious where the $500 million promotional cash will be spent?
In those aforementioned dedicated walls, Microsoft and at&t and throw in T-mobile for an equal measure, need to have working models of phones with loaded apps, people hub filled with data, Xbox live, working Zune pass and the browser with an internet connection. There are far too many people who don't realize that the big tiles are not static but actually contain dynamic information that bring the tiles to life. The other thing  Microsoft needs to do is create a booklet with logical steps of detailing how to set up a new or existing windows live id account and connect it to various services, Zune and Xbox live. Paul Thurrott and WPcentral both have excellent write ups on how to achieve this.
In the end Microsoft needs to do a better job marketing the excellent product they have in their hands. At the moment, they seem to be failing miserably.