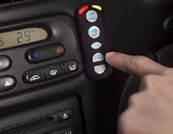 It seems quite a few Windows phone 7 users are having problems with the Bluetooth Headset profile working well with their devices, with complaints ranging from complete inability to connect, poor sound quality and even reboots when making phone calls.
AKS, who started the thread on Microsoft's forums, write:
My Samsung Focus is having problems working with my built-in handsfree bluetooth system in my car (Infiniti G35).  The phone discovers & pairs just fine.  However, any call connection results in horribly garbled audio.  I discovered that if I disconnect the BT connection from my car during a call and then reconnect, the audio recovers to work fine.  However, the next call will result in the same problem.  I drove over to the ATT store & tried out their display models, both another Focus & their HTC Surround.  They BOTH exhibited the same problem, so it appears to be a WP7 problem.  I did try my phone on an older model G35 w/ handfree BT which worked fine.  My old iPhone 3GS & other droids work fine w/my car.

Anyone else experiencing similar issues?  From my basic testing, it appears to be a MS software / driver problem.  Help!

40 people need an answer.
I personally have no problem with my HTC 7 Trophy and the car kit built into my Mercedes. As the long thread here suggests however, many others are having issues.  Does this also include our readers? Let us know below.
Thanks Alex for the tip.