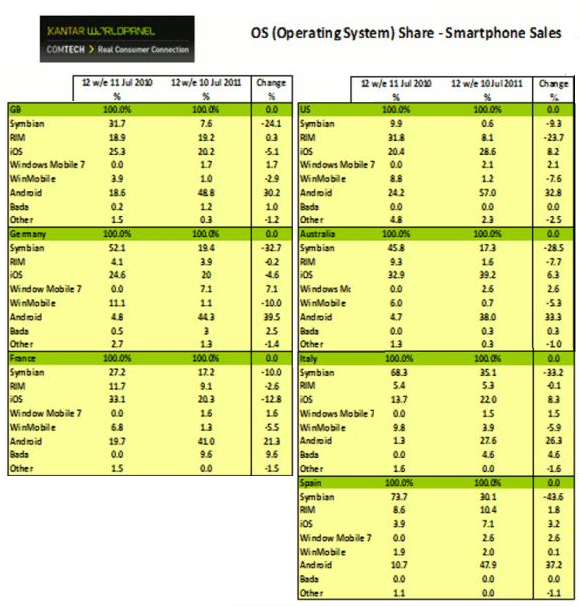 Market Research company Kantar World Panel has for the first time broken out their Windows Phone numbers into Windows Mobile and Windows Phone 7, and it makes for very interesting reading.
According to their numbers in the US market more Windows Phone 7 than Windows Mobile handsets were sold in the last 12 weeks ending 10th July, with 1.2% of smartphone sales Windows Mobile and 2.1% Windows Phone 7.  The total number of Windows Phone 7 handsets sold is apparently slowly approaching 1 million.
From the other numbers covered in the regular survey, it appears Windows Phone 7 is most popular in Germany, with the OS having a full 7.1% of of the market, versus only 1.1% Windows Mobile handsets.  This number is significantly larger than the 3.9% held by RIM.  The HTC Mozart is apparently the most popular Windows Phone7 handset there, with a total of 300,000 Windows Phones sold since launch.
Kantar Worldpanel Comtech says that Windows Phone 7 market share remains in the "low single digits" elsewhere.
The German numbers especially give hope that Windows Phone 7 has what it takes to be a major player in the market, if only it can convince buyers to chose the OS.
Via theinquirer.net