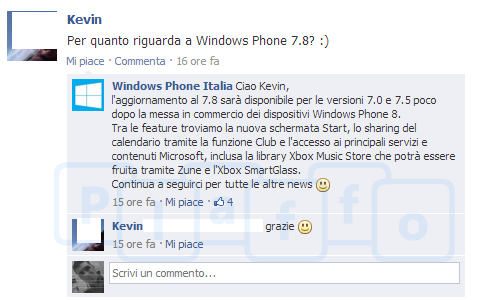 Windows Phone Italy has spilled the beans on the Windows Phone 7.8 upgrade.  As always we should take whatever is said with a grain of salt until the official release, but in their Facebook page Windows Phone Italy said Windows Phone:
The upgrade to 7.8 will be available for versions 7.0 and 7.5 shortly after the marketing of the devices Windows Phone 8. 
Among the features there is the new Start screen , the sharing of the calendar using the function Club and ' access to key services and content Microsoft, including Xbox Music Store library that can be enjoyed by Zune and Xbox SmartGlass . 
Continue to follow us for all other news!
So in  short the features may include the Rooms feature, Xbox Music and of course the start screen.  While we would of course always hope for more, I think I would be satisfied with this gesture.
Do you feel the same way? Let us know below.
Via Plaffo.com