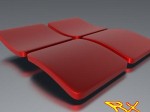 We have heard of Micosofts Silverlight application in the medical field
But this new Microsoft funded venture could EASILY revolutionize the medical world.
Computer engineers at Washington University in St. Louis are bringing the minimalist approach to medical care and computing by coupling USB-based ultrasound probe technology with a smartphone, enabling a compact, mobile computational platform and a medical imaging device that fits in the palm of a hand.

William D. Richard, Ph.D., Washington University Associate Professor of Computer Science and Engineering, and David Zar, Washington University Research Associate in Computer Science and Engineering, have made commercial USB ultrasound probes compatible with Microsoft Windows Mobile-based smartphones, thanks to a $100,000 grant Microsoft awarded the two in 2008.

In order to make commercial USB ultrasound probes work with smartphones, the researchers had to optimize every aspect of probe design and operation, from power consumption and data transfer rate to image formation algorithms. As a result, it is now possible to build smartphone-compatible USB ultrasound probes for imaging the kidney, liver, bladder, and eyes, endocavity probes for prostate and uterine screenings and biopsies, and vascular probes for imaging veins and arteries for starting IVs and central lines.

Both medicine and global computer use will never be the same.
Now…dont you guys get any un-settling ideas out there!