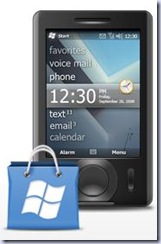 Some more information regarding the Windows Marketplace for Mobile has been announced, and some of the executives involved has been fleshing out more details.
"There's a 'find' component, a 'try' process, and there's a 'buy' or 'purchase' component where you can complete the transaction on the device and the application is delivered to the device over the air," said Daniel Bouie, senior planner for Microsoft's Windows Marketplace for Mobile.
The ability to trial software is in significant contrast to the iPhone App store, where the inability for developers to do software trials have caused both massive duplication in the catalogue with so-called "light" versions of applications, falsely boosting headline numbers, and also led to downward pressure on application pricing, as buyers were unlikely to spend significant sums on software without being sure of its functionality.
"From a developer perspective, it's a huge leap forward for the Windows Mobile platform and for Windows Mobile developers," said Bouie "For the first time, it creates a place for developers to go to get distribution of the products on every Windows Mobile 6.5 phone, and it's really designed to make sure that developers can maximize their revenues associated with their products." "This is our process of reaching out to developers to let them know about the Windows Marketplace for Mobile opportunity," he said.
Bouie said developers who have built to the current Windows Mobile 6.1 will not need a new SDK. "The current SDK meets all their needs at this time," he said, adding Microsoft will be releasing a Windows Mobile 6.5 emulator for developers well before the Marketplace opens, but the release date of that is still up in the air.
The Windows Marketplace for Mobile interface will be available on the Web from a PC and is built into the Windows Mobile client.
Read the full interview at the Microsoft Blog.