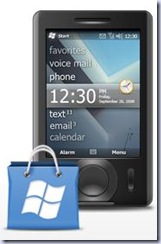 Some details have finally emerged regarding the Windows Mobile application Market Place.
Developers who sell applications through Windows Marketplace for Mobile will receive 70 percent of the revenue from the sales of each application. In addition, they will be able to set the price for their applications in each market, maximizing their revenues based on targeted pricing strategies. Developers can also choose to distribute their applications at no cost.
There is a yearly registration fee of $99, which includes up to five application submissions to Windows Marketplace for Mobile.  Each additional submission within the annual period will cost $99 (U.S.). The registration fee is waived for student developers who want to reach Windows® phones customers, through enrolment in the Microsoft DreamSpark program.
Microsoft will work with developers to ensure that their applications run optimally on Windows phones by running a rigorous certification and testing process before applications go to market. Developers will be able to see detailed feedback during and after the certification process of their application on the Windows Marketplace for Mobile developer portal.
The Windows Marketplace for Mobile will be available in 29 countries. Developers will have access to all details once the registration doors open in the spring, and will be able to start submitting their applications later this summer. Developers can get the tools to begin developing for Windows® phones at http://developer.windowsmobile.com.
Developers will not only be able to leveraging familiar desktop and server development tools such as Win32, Active Template Library and Microsoft Foundation Classes (Visual C++), Visual C#, Visual Basic .NET, ASP.NET but also asynchronous JavaScript and XML (AJAX).
It is therefore clear that, while Windows Mobile has a library of more than 20 000 applications, the app store will start out with a much smaller number, due to the certification process, and it is therefore an open question if this will result in a similar rush as in the iPhone app store to get first in front of buyers, of it the opposite will occur and the Marketplace itself will be largely ignored for other, better established distribution channels.