Steam's Hardware Survey numbers are out for May 2018, which give us a rare look into the market share of the various VR headsets, due to Steam's cross-platform support and attractive library of VR games and other applications.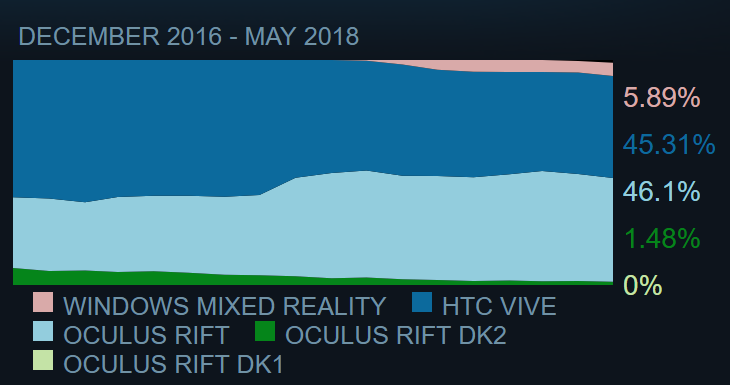 As can be seen by the slight widening of the pink bit of the graph, for once the numbers read as good news for Windows Mixed Reality, with its market share hitting its highest numbers yet.
| | | | | |
| --- | --- | --- | --- | --- |
| | February 2018 | March 2018 | April 2018 | May 2018 |
| WMR Usage share | 5.36% | 5.32% | 5.04% | 5.89% |
It appears all those steep price cuts have finally trickled through to increased usage in the market, with Windows Mixed Reality usage share up from 5.04% in April to 5.89% in May 2018.
HTC's Vive headsets also saw a small increase from 45.14% in April 2018 to 45.31% in May 2018. The increase appears to be mainly at the expensive of Oculus Rift's headsets, which dropped further 49.33% to 47.58% usage share.
It should be noted that Steam's numbers are an indirect measure, and if headset users instead use their native portals and games these numbers would fluctuate accordingly.  Nevertheless, the increase in usage share is good news, especially if it continues into the future.
Last month's numbers can be seen here.
Given the now low prices of Windows Mixed Reality headsets, for me, the main barrier to entry is the need for a powerful PC to drive the experience, particularly as my PC of choice is a thin and light laptop. Are many of our readers in the same situation? Let us know below.