While we cant make much sense of Steam's hardware survey numbers for PCs until the Chinese PUBG wave ends, the headset survey numbers are likely more reliable, and it reads as relatively good news for Windows Mixed Reality headsets.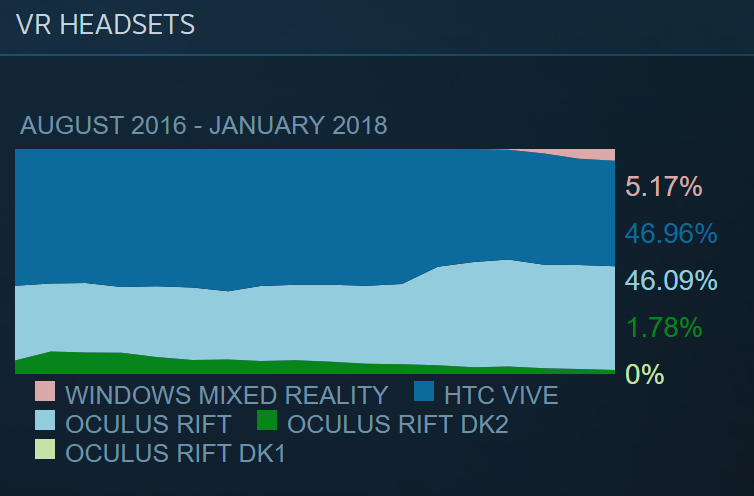 The numbers show WMR increasing its market share from 4.35% in December 2017 to 5.17% in January 2018, seemingly at the expense of HTC Vive, which went from 47.26 to 46.96%  (same as last month) and older Oculus Rift DK2 headsets, which went from 2.25% to 1.78%.
Hopefully, this suggests users are upgrading from older VR headsets to new WMR devices. Alternatively, the new lower prices may have expanded the market significantly, mainly in the favour of WMR devices.
Of course, 5% is still a tiny number, and the progress is relatively slow, and I believe we would need to see at least a 20% market share before I would say WMR headsets are a safe bet for developers.
It should be noted that the numbers only reflect the Steam platform and that Windows Mixed Reality and Oculus Rift both have their own independent stores.  It does, however, give us an idea of the trend, which so far looks good for Windows Mixed Reality. Hopefully, the impact of the new extremely low prices will see a further boost in share in February's numbers.
Via Venturebeat