.  ReadWriteWeb noticed what they termed quite a surprise today, that Windows Live Messenger is the second most used app in Facebook (after Farmville, of course) with some 9 million daily active users: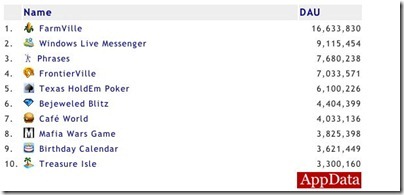 And as Mashable points out, only about 20 percent of the entire 300 million strong Windows Live Messenger user base are able to access the Facebook/WLM integration, making the numbers even more remarkable.
Read more at our partner LiveSide.net here.