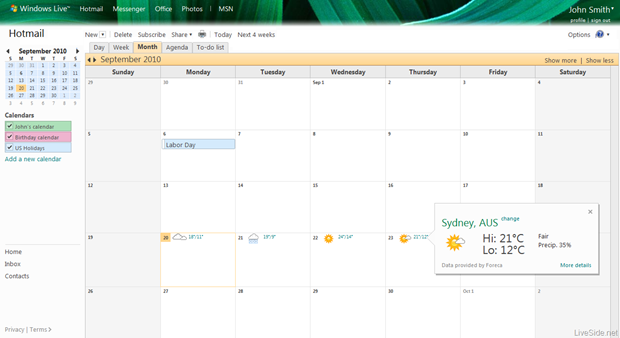 Windows Phone 7 will do a lot to help make the Microsoft Life a reality, weaving together many Microsoft services in such a way that one would not really need to look elsewhere to have one's needs met.
With the advent of Exchange ActiveSync for Windows Live there is now really not any need, except for a custom domain name, to have one's own Exchange server. Windows Live Calendar is a cool cloud-based Calendar which is accessible from any web browser and will of course also sync seamlessly with your smartphone.
Now Liveside.net reports Microsoft is looking to ad further enhancements to Windows Live Calendar. Besides adding connection encryption using SSL, they have also added the fun enhancement of a 5 day weather forecast to the web interface of the calendar.
Read more about the coming update at LiveSide.net here.
Do our readers think these services could ever replace their Exchange server (for those who have it?) Let us know below.