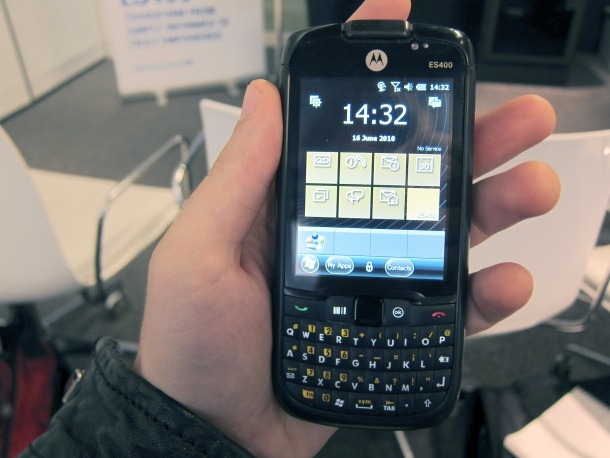 The Motorola  ES400 ships with Windows Mobile 6.5.3, but will be upgraded to Windows Embedded Handheld.
Steve Ballmer has just announced a new version of Windows Mobile 6.x, designed for rugged device use, at the launch of the Motorola ES400.
The OS is designed to continue providing a support path for businesses committed to using Windows Mobile for their line of business applications, often in warehouse and on the road settings.
"We are also working to provide a clear path for enterprises to migrate line-of-business applications to our new application platform based on Microsoft Silverlight and Visual Studio 2010," Ballmer said. "These releases will provide proven management and security functionality, while giving customers confidence that investments in handheld enterprise devices and line-of-business applications will be protected over time by an extended support lifecycle."
He said Microsoft's Windows Embedded team is "focused on extending Windows and the benefits of cloud computing to the world of specialised devices", and Windows Embedded Handheld forms part of that strategy.
The next version of Windows Embedded handheld will however be based on "windows 7 technologies", which has been a code name for Windows CE 7 in the past.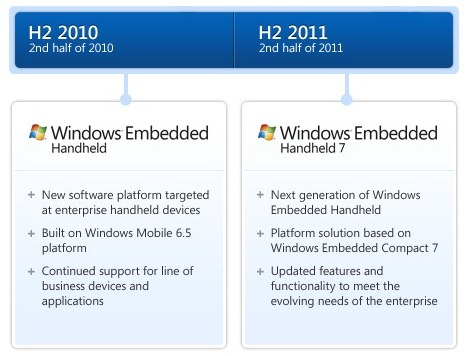 Roadmap via the ZDNET All about Microsoft blog.
With a very proscriptive design Windows Phone 7 is far from ideal for rugged use, where specialized devices, multiple ports, signature capture and vertical applications is the norm.
According to Appscout Microsoft needs these operating systems because the consumer and business markets are "fairly separate," Microsoft's Windows Embedded product unit manager David Kelley said at an event launching the new Motorola ES400 business device.
"When we look at the Windows Phone offering, it's really geared towards smartphones," Kelley said. "But it doesn't necessarily align with what is needed in the enterprise device or handheld world where you have requirements like … different input methods. Also, when you look at the lifecycle support, that doesn't quite align with the consumer side of the business as well," he said.
Windows Embedded handheld will be released in 6 months, and the next version in the second half of 2011.
Ballmer's video message was shown to journalists at a pre-launch event for Motorola's ES400, a handset that will be launched with Windows Mobile 6.5.3 but will be upgradeable to the first version of Windows Embedded Handheld.
See the video after the break.


See the video here.
Read more at ZDNET here.