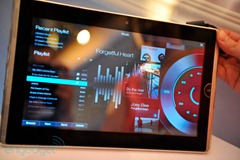 While we wish Microsoft could throw its full weight behind Windows Embedded Compact 7, it is not stopping others from expressing support for the OS.
ARM holdings, the designers of the mobile instruction set behind the vast majority of mobile ad embedded CPUs have sees Windows Embedded Compact 7 as an endorsement of their hardware strategy, with Microsoft making special effort to support their latest architecture enhancements including as ARMv7, ARMv7 NEONâ"¢ and Symmetrical Multi-Processing.
They note several ARM silicon Partners have already announced their support for the Windows Embedded Compact 7, including Freescale Semiconductor, Samsung Electronics and Texas Instruments.
Texas Instruments (TI) have in fact already demonstrated a Board Support Package (BSP) running Windows Embedded Compact 7 at Computex, and promise to release support for existing boards running their Cortex A8 processors soon.
Adeneo Embedded also demonstrated a Silverlight-based user interface for Windows Embedded Compact 7 at Computex, which they created in conjunction with Microsoft running on an OMAP35xâ"¢-based tablet device, and are promising design support to other companies.
While Microsoft may have their preferences regarding their ideal tablet OS, it appears that their Compact OS may forge ahead nevertheless.
Via ARM,  WindowsforDevices.com