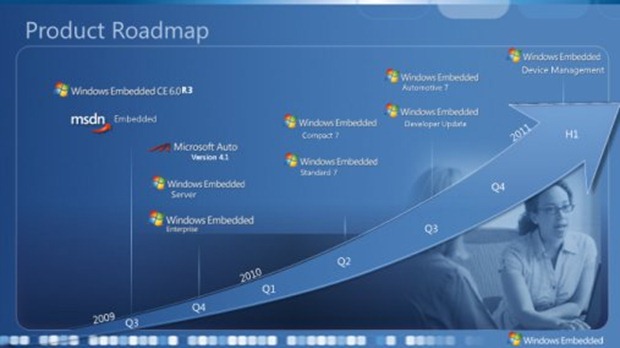 WindowsforDevices has  brought this recent Microsoft slide to our attention, which clearly states an expected release date in Q2 2010 for Windows CE 7, to be renamed Windows Embedded Compact 7.
On the same page Microsoft writes:
Q: What's next on the horizon for Windows Embedded?
A: We will be announcing the RTM of Windows Embedded Standard 7 in the second quarter of this calendar year, followed by a release for Windows Embedded Compact 7, the next generation of the Windows Embedded CE platform in the Q2 timeframe of this calendar year as well. We're also planning releases for Windows Embedded Automotive 7, the next generation of the Windows Embedded Automotive platform, and Windows Embedded Developer Update later this calendar year. To find out more, please visit http://www.microsoft.com/windowsembedded/en-us/about/what.mspx
Of course not much of Q2 2010 is left over, and there is some suggestion Microsoft may be saving the announcement for Computex which is running from 1-5 June, where many iPad rivals are expected to be announced.
Supporting this is this guarded reply by Michel Verhagen, embedded MVP, on Microsoft's support forums regarding Windows CE 7.
Microsoft will make some announcements at Computex next week which may or may not answer your questions. This is all I can say. Apologies for being vague but we (MVP's) are all bound by NDA's.

Good luck,

Michel Verhagen, eMVP
Around 60 products powered by Microsoft technology is expected to be announced at Computex next week.
Windows CE 7 brings a number of consumer-facing technologies to the table that should make devices based on it more suitable for use in tablets, such as an improved browser, DNLA support, Media Transfer Protocol support, and support for technologies like Silverlight and Flash for user interface elements.  It is widely believed to be the basis of Windows Phone 7, but Microsoft has been extremely cagey about admitting this.