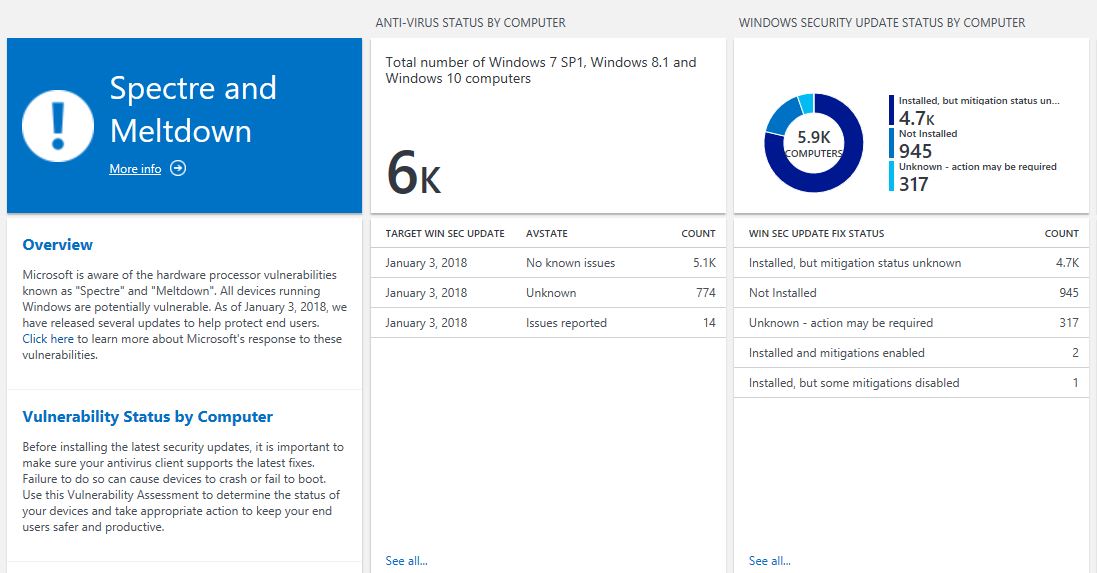 To help enterprise organizations in assessing Meltdown and Spectre protections, Microsoft today announced that their free Windows Analytics service will now report the Meltdown and Spectre protection status for all the Windows devices that they manage. Microsoft has added the following features,
Anti-virus Status: Some anti-virus (AV) software may not be compatible with the required Windows Operating System updates. This status insight indicates if the devices' anti-virus software is compatible with the latest Windows security update.
Windows Operating System Security Update Status: This Windows Analytics insight will indicate which Windows security update is running on any device and if any of these updates have been disabled. In some cases, IT Administrators may choose to install the security update, but disable the fix. Our complete list of Windows editions and security updates can be found in our Windows customer guidance article.
Firmware Status – This insight provides details about the firmware installed on the device. Specifically, this insight reports if the installed firmware indicates that it includes the specific protections required. Initially, this status will be limited to the list of approved and available firmware security updates from Intel4. We will be adding other CPU (chipset) partners' data as it becomes available to Microsoft.
You can learn more about Windows Analytics here.
Source: Microsoft