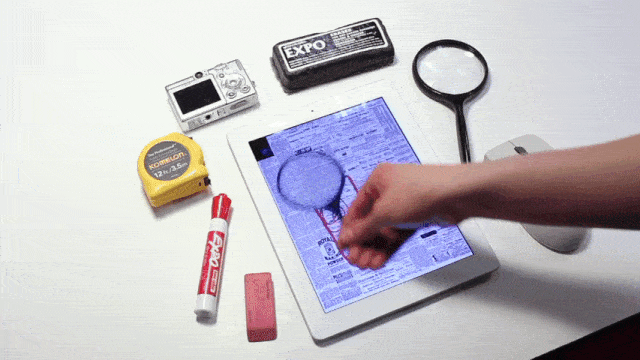 Over the years we have seen numerous demonstrations of advanced multi-touch by Microsoft Research, but Windows 10 only supports the usual pedestrian swipes and pinches.
It seems Korean company Qeexo is much closer to getting their sophisticated multi-touch gestures into the market, and amazingly it does not use any new technology or sensors, and can even be implemented at an app level rather than only via OS integration.
Their software solution called TouchTools lets you bring up virtual tools such as a pen, an eraser, a camera, a tape measure, a ruler, a magnifying glass or even a mouse using intuitive multi-touch gestures which usually resemble the natural way you would use that implement.
The magic sauce is a light-weight software engine which uses machine learning to discern exactly what you mean when you touch the screen.
"It's not just the number of fingers on the screen; just those data will not be enough to decide which tool to use. We need to understand the orientation [of fingers] and size [of fingertips]", said Qeexo CEO Sang Won Lee.
The technology is ideal not just for tablets and smartphones, but also for large interactive whiteboards such as the Surface Hub.
The feature is already in the market in a limited form as "knuckle sense" on Huawei Android phones, where users are able to use their knuckles to take screen shots by double tapping or split the screen to multi-task by drawing a line with their knuckles.
Hopefully Microsoft or some innovative developers will bring this technology to Windows and help multi-touch live up to its early potential.
Read more about the technology at Qeexo here.