Windows 10 is shaping up to be a great desktop and laptop operating system, but despite Microsoft's hopes there is little chance it will make Windows more relevant or fix the dire situation for of the Windows Store.
The reason Windows has become largely irrelevant when it comes to developing apps and engaging users is that Windows is a desktop and laptop OS, when the device for the future is almost certainly one that will fit into our pocket – smartphones.  While Windows has the advantage of a massive legacy on x86 software, none of this transfers to Windows Phones, meaning there is no inherent advantage to having a Windows phone even if you are a desktop Windows user.
The second big reason why the Windows store has not flourished, despite an installed base of at least 200 million users, is that desktop development is taking place on the biggest universal platform of them all – the web.
If a service is to be used on the desktop, developers implement it in a browser, be it facebook, twitter, instagram or even WhatsApp recently. It just makes the most sense when you want your app to be available to the biggest number of users. In this way Netscape's Marc Andreessen did have his final revenge – Windows has been reduced  to "a poorly debugged set of device drivers" for browsers.
How would an x86 Windows 10 phone help turn this situation around?
By making Windows an OS you always have with you it will make it relevant to user's daily lives again.  The slab of metal, plastic and glass will finally actually contain your up to date photos, address book and music collection, accessible with finger-friendly mobile apps.  And when you get to a big screen and dock your phone, all your data will be there already, available to process with powerful x86 applications.
Adding a desktop available when docked in some way is the killer advantage of a Windows phone, one that Android and iOS can not replicate. And giving a Windows desktop real-time access to your daily life, without needing to sync, will make it relevant once again.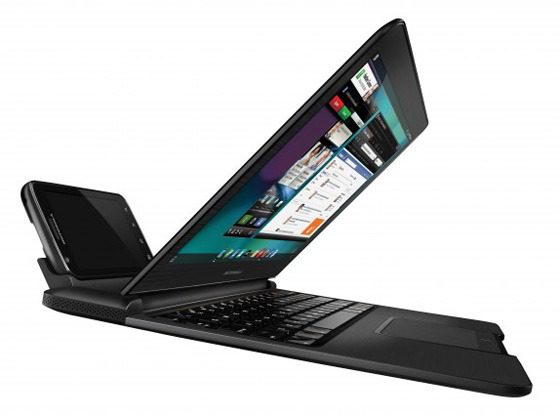 Sure, Motorola tried this before, but they did not have the Windows advantage, and they were hobbled by using ARM.
For Windows to survive in the long term, it needs to become a real hybrid OS, as comfortable on the desktop as on the phone, switching with ease from one interface to another, while keeping your data accessible from whatever screen you want to use.
Imagine a world where your browser tabs follow your around from screen to screen, because it is always the same browser session. Or when you open your phone to edit a document your cursor is in exactly the same position, not because of some unreliable sync engine, but because it is the same session as when you were working on it on a larger screen a few hours earlier, but with more finger-friendly controls due to Continuity.
A world like this is already possible, but not convenient with small and cheap x86 windows 8 tablets.
MSFTnerd, followed by the likes of Mary Jo Foley, notes:
Intel-powered phones exist, and Windows 10 already has all the components to make this happen.  We should not have to wait till Windows 11, and frankly Microsoft does not have the luxury of time.