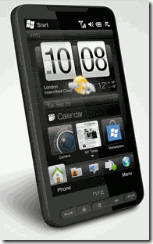 Thanks to the numerous ROMs for the HD2, we can get some idea of the direction in which HTC are taking it.
The shipped 1.4X (1.43 and 1.48) ROMs and the official in some regions 1.6X (1.61, 1.65 and 1.66) ROMs are all fairly normal. They contain minor updates and fixes, without many underlying changes.
The T-Mobile US builds however are rather interesting. The 2.01, 2.02 and 2.04 ROMs all contain alterations which make Manila (amongst other programs) play nicely with the update menu bars. Prior to these ROMs coming along, you either had to edit manila to reposition it, or you had to live with it being placed where it would be on WM6.5.
HTC have changed that, which to me indicates that either there's a generic 6.5.3 HD2 ROM in the works, or that the T-Mobile US HD2 will ship with the new builds of 6.5.
Could we see the HD2 launching in the US with WM6.5.3? If so, maybe it'll be here with MWC and the announcements we're sure to get.