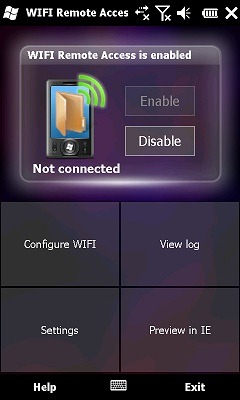 For those who do not know, WIFI Remote Access by Julian Manici is a great application, resident on your phone, which allows easy remote control and access to the contents of your phone over a network connection from a browser without installing any software on the desktop.
The application has been maturing nicely, adding features along the way, and has now become available in Marketplace in both a basic and premium version.
The free version allows one to browse data, pictures, and music and send files from your computer to your device. You can see pictures and listen music on your computer directly from the web interface.
It also features a registry editor, for people who like to tweak their Windows Mobile device.
The premium version, available from Marketplace for $7.99 features FTP support, allows sending and reading SMS messages directly from your computer and allows direct remote control of your phone using your keyboard and mouse from your browser.
Read more about the software at Julian's webpage here, and find the premium version in Marketplace here.