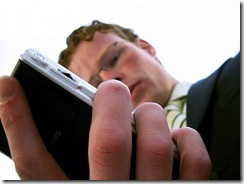 Microsoft has a secret weapon in their battle of MS vs Everyone Else: Voice. The technology is used for their Bing search engine, built into Windows 7 and has also recently shown up on the Samsung Intrepid, in the form of the Tellme application and service. The voice based app can be used from calling people to even texting them for you.
"Voice is the new touch," Zig Serafin, general manager of the Speech at Microsoft Group, said in comments posted on Microsoft's Website. "It's the natural evolution from keyboards and touch screens. Today, speech is rapidly becoming an expected part of our everyday experience across a variety of devices."
Microsoft's Tellme uses the VoiceXML standard, meaning, depending on website support, the software will be able to handle ever more complex tasks, such as booking tickets for example.  Microsoft has also built the technology into Exchange 2007, allowing the platform to transcribe text messages.
Of course Microsoft is not alone in this effort, and Google has been moving pretty fast with its voice-based search, and its recent implementation on Android 2.0 is particularly good, but all the competition can only be good for users and prevent the stagnation we have seen with Microsoft's excellent Voice Command, which started strong but has remained at version 1.6, with no further development, for at least the last 2 years.
Read more at Eweek here.