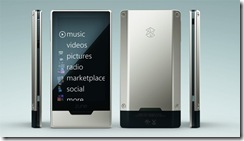 While surfing the webs I came across this interesting article about the ZuneHD and iPod Touch, and while I don't endorse the views (they are a bit unrealistic) what I found most interesting the existence of rabid Microsoft fanboys generated my their now successful venture into the gaming world, which does indeed raise the question of how synergistic Microsoft's integration of the Xbox 360 and the ZuneHD will be, and whether it will in fact be a significant driver for sales of the device.
See an excerpt below:
Microsoft took the lid off their Zune HD device on Tuesday May 26 2009. Mark that calendar folks because it's also the day they effectively laid the smack down gauntlet down on Apple. If the leaked specs are true then all bets are off, and next weeks E3 will be a monumental shift for portable device hounds, gamers, music, and video lovers. Zune HD will be a device that will allow for HD content (720p) across the board to be accessible to users. Having  HD radio alone being will be a revolution allowing for enhanced digital music, podcasts, and programming to be easy to get to.  Built inside this device will be a new touch screen created using OLED technology a great step up in clarity from LCD devices used in most portable hand held mobile devices. Add in a web browser and Xbox Live Arcade games, and you have the death of the Ipod Touch. Reason being is that the Xbox 360 platform is the most stable and robust HD machine in your living room.  Offering the type of synergy that doesn't exist for anyone else in the industry. Sony can almost make the claim, but they have failed in truly integrating the products and services. So although they have to potential the jury is still out on their execution and efficiency to get it done.

No longer will there be a Video Marketplace on your Xbox 360 NXE dashboard, it will be replaced by the Zune Marketplace. Immediately letting you know that whatever content you have access to there you will have it available to your Zune HD. That will allow for new music deals with majors, independent artists, distributors and labels. Effectively creating a one stop shop similar to Itunes.
Read the full post at the Kingslayer blog here via News for Gamers.
I've set up a poll, to see what the Windows Mobile fans on this site think. Don't forget to let us know in the comments also.
[poll id="6"]