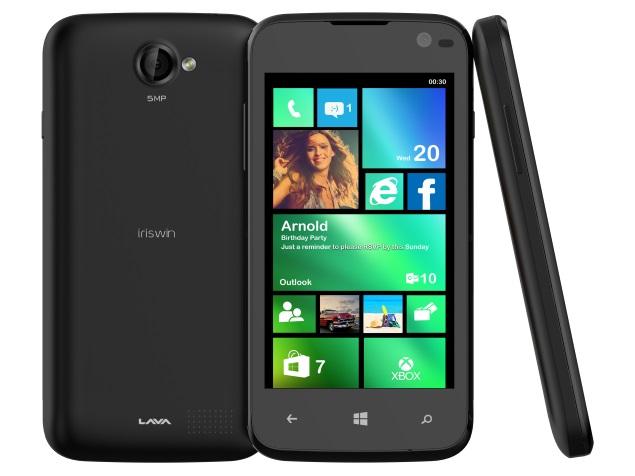 Ever since it's release in India in early December, Lava's first ever Windows Phone, Iris Win1 has caught the attention of several potential buyers – both Windows Phone enthusiasts and others. The phone, with good specs and an affordable price tag has won rave reviews from tech reviewers and customers alike. So what makes Iris Win1 a winner?
I have been using the phone this for about two months now. I shall not do a review of the phone here, but will instead stick to information. You can refer to this unboxing video by WPXbox to get an idea of what the phone looks like and what it comes with.
Available at flipkart for Rs 4999, exclusive there and a bestseller: This phone is available at Flipkart and is exclusive to the retailer, so do not waste your time going to a Lava showroom. The price of the phone is 4999 but various offers have been available on the phone from time to time that can make you fetch it for lesser price. In fact, the phone was available at 3999 at one point of time. The phone has climbed up the bestsellers list at flipkart and at the time of writing is placed at position number 35. It is the only Lava phone (Android or Windows Phone) in the list.
Ships with a whole lot of accessories: Some of the low-end lumias recently do not ship with earphones, let alone a flip cover. Iris Win1 not only ships with both but also comes with a screen guard inserted so that you are spared from both the effort and the ugly bubbles on screen. I think the accessories part is what sets it apart from other purchases. Micromax Canvas Win W121 for e.g does not ship with a flip cover.
1GB RAM: With 1GB RAM, Iris Win1 has an edge over most Windows Phones available at it's price range, both lumias and local ones. 1GB RAM also ensures it can run all apps and games, and the performance is super smooth and there is no 'resuming' screen wait.
8GB internal, expandable upto 32GB? With 8GB internal memory, you get a good deal of space for basic applications and music. For anything more, you can get an SD card. The manual says it supports expandable memory upto 32 GB. That is a sheer lie. In fact, it can support even 64GB SD cards (tested), maybe even 128GB!
Dual cameras, flash in the rear camera: Like with the other Indian Windows Phones and unlike the available low-end lumias, Iris Win1 comes with a front camera which allows you to video chat. The rear camera comes with LED flash, allowing you to capture pics at night.
Exclusive apps? HERE maps is available on this phone as it is on any other device. HERE drive is available too, and both come pre-installed! The presence of a flip cover makes double-tap-to-awake a non-necessity. Lumia Camera will come to it with Windows 10. Like Windows Phones from Samsung and Microsoft and unlike other Windows Phones, Iris Win1 has a custom setting for call filtering.
Playing HD videos: Contrary to popular opinion, this phone can play HD videos smoothly and maybe even full HD ones. To play 720p videos, you need to enable hardware encoding (as the display resolution is only 480p). The recommended app to use is Moliplayer (free version). While the video loads, tap on the 'HW' button on the upper right of the screen and the video will play smoothly.
BIIIIIIIIIIIIIIG Battery: 4 inch display, 1970mAH battery, brace yourself for a healthy backup. My Iris Win1 with generally low usage (data connection always on but wifi takes precedence, 3-4 hours of browsing and music, no videos or games, basic applications with notifications enabled) gives me two days of battery backup. With heavy usage, expect the time to drop, but atleast a day's backup is easily guaranteed.
Great Reviews: As mentioned in the beginning, customer feedback has been positive. If you visit flipkart, you will find customers(all genuine) praising the phone to no end. The net rating is 4.3 which is quite good for a low-end phone.
And where it can be a loser: Like every device, Iris Win1 comes with certain drawbacks. The front camera is only VGA and the rear camera cannot record HD videos. Camera zoom is also lacking but will likely come with Lumia Camera. Here apps cannot be uninstalled! Lava's service has a rather terrible reputation.
It is a great value for money phone: All in all, it is the best value for money phone you will find in the Indian market. If you are looking for a phone below 5k in India, this is the one for you.