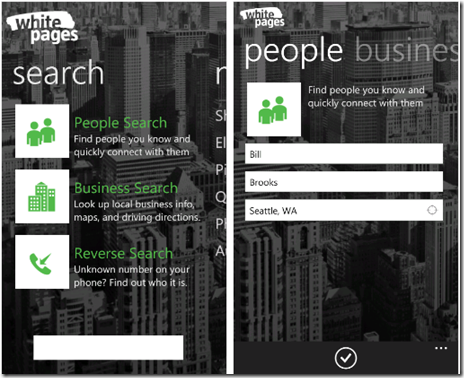 WhitePages online directory have now released their free for Windows Phone platform.
WhitePages for Windows Phone makes it easy to search for people, find businesses and identify unknown calls — anytime, anywhere.
• Look up almost anyone in the largest U.S. directory with WhitePages People Search. Add phone numbers and addresses to your phone contacts with one tap.
• Use Yellow Pages Business Search to find local business info for pizza, restaurants, hotels and more by name or category.
• Find popular businesses near you fast with Store Locator. Scroll through smart icons that display when stores are in your vicinity. Choose a different location to search near your next destination.
• Get maps and driving directions from your current location for any search.
• Use Reverse Phone Number Search as caller ID to screen unknown calls and text messages.
FEATURES
– The #1 Online White Pages Directory
– Local Business Search
– Location-Aware Store Locator
– Reverse Phone Number Caller ID
– Tap to Call any listing
– Add Contacts to your phone address book
– Maps and Driving Directions
– Recent Searches saved for easy offline access
– Premium Reverse Phone SMS search for cell numbers and other hard to find listings
You can download the app from here.
Full press release after the break.
SEATTLE, WA–(Marketwire – Jun 29, 2011) – As part of its ongoing mission to help consumers connect with confidence while on-the-go, WhitePages (http://www.whitepages.com), the largest and most trusted online directory, today announced the launch of a new free Windows Phone app. Available immediately, the new WhitePages Windows Phone app provides robust people and business search, integrated GPS for maps and directions, reverse phone lookup to find a name for unknown numbers, and "save to contacts" functionality to keep mobile address books up to date.
"Our strategy is to make the WhitePages directory available to as many consumers as possible, no matter what device or operating system they may use," said Bill Brooks, Mobile Business Development Director at WhitePages. "We are particularly excited about launching on the Windows Phone platform with its steadily growing user base and the highly anticipated launch of the upcoming Windows Phone 7.5 operating system."
WhitePages has reached an audience of over 11 million mobile users through its top 10 iPhone and Android reference apps, as well as its popular iPad, HP webOS, BlackBerry, m.whitepages.com, and text LOOKUP mobile offerings. The addition of Windows Phone was driven by consumer demand, as well as the unique capabilities of the platform. With the Metro design language WhitePages has transformed the traditional app user interface model to fully take advantage of the panorama and pivot features delivering a great new user experience.
The new Windows Phone app is loaded with popular WhitePages mobile features including:
Mobile People Search: Immediate access to the most comprehensive source of phone numbers and addresses. WhitePages' database includes contact information for over 200 million people — that's 90 percent of the US population.
Local Business Search: By detecting user location, WhitePages' easy to use business search provides fast results for nearby businesses by name or by category.
Location Aware Store Locator: Popular stores are automatically suggested based on device location, with one-tap access to over 1 million verified businesses to find the best results fast.
Reverse Phone Lookup: Putting a name to unknown numbers with ease, standard WhitePages search finds landlines and businesses, and premium search options are available for cell phones and other hard to find numbers.
Save to Contacts: Add caller name, address and number to the phone's address book with just one tap.
"Windows Phone is backed by an ecosystem of skilled developers who are building a variety of quality apps and games, like WhitePages, that take advantage of the phone's unique features and design," said Todd Brix, senior director, Windows Phone Marketplace, Microsoft Corp. "With its smart location aware features and integration with the phone's address book, WhitePages is a great example of the high quality apps that Windows Phone customers can expect to find on Marketplace," he continued.
The WhitePages on-the-go directory app for Windows is free and available immediately for download.
About WhitePages
WhitePages is the leading provider of contact information for people and businesses in the U.S. With over 20 million unique monthly users and powering over 2 billion searches on over 1,500 sites including MSN and the United States Postal Service, only WhitePages offers consumers one-click access to more than 200 million adults, also providing them with the ability to edit and control their own listings. The company's suite of mobile products includes a top-50 mobile website and popular iPhone, Android, and BlackBerry applications that have been downloaded more than 11 million times.
For more information, please visit www.whitepages.com or check out the WhitePages blog at blog.whitepages.com.