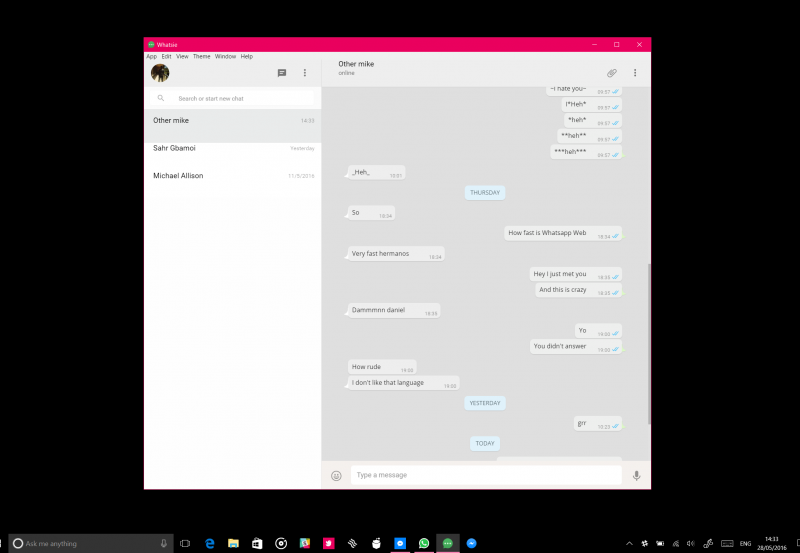 While WhatsApp's WIndows Phone app is pretty to look at, the same can't be said for the official desktop app. WhatsApp's own desktop app is an electron app which essentially wraps the WhatsApp web with a few customizations for Windows and Mac PCs.
While the look is apparently good enough for users who make use of iOS and Android, Windows phone users may be used to better design standards from WhatsApp.
Whatsie is a third-party WhatsApp app from the developers of Facebook Messenger for desktop (third-party).It isn't a universal Windows app it  essentially does the same thing as WhatsApp's native app. It wraps the WhatsApp web app and presents it as a desktop app for users who prefer to work outside of Edge, Chrome or Firefox.
What sets it apart from the latter as well as from apps like Whatswrapp in the Windows store  is that it provides options for theming WhatsApp to your liking. Not a fan of the bland native theme? You can add a dark theme, or a sepia heme, or an orange theme, or a pure white theme. There's a selection of 7 themes in addition to the main themeFor people who send messages at night, having a dark theme built in makes the whole hassle of installing a third-party app worth it.
Aside from that, it does what you'd expect with toast notifications, ability to launch on startup and/or sit in your notifications bar on Windows 10.
Gallery
Due to it  not being a Windows store app, you'll have to download and install it from the developer's webapp. If you're interested, you can get it from the source link below.