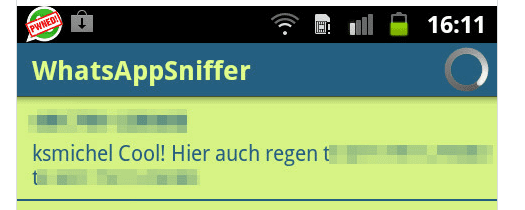 WhatsApp made a mysterious disappearance from Marketplace last week and now computerbild.de may have an explanation.
It seems a hack has been released for the very popular service which means anyone on the same network will be able to eavesdrop on any WhatsApp messages being sent.
Conversations are being sent in clear text, using the XMP protocol, and now an Android app WhatsAppSniffer has been released, making the process of listening in on conversations taking place at your work, home and cafe extremely easy.The app is not in the Google Play Store, but it is easy to get from other sources.
Computerbild is encouraging users to switch to other services such as Skype and Viber (which we reviewed here), which has more robust security.
Via MonWindowsPhone.com