We are still waiting for an official explanation for the disappearance of the WhatsApp app for Windows Phone from the Windows Phone Store.
What we do have however, via Windows PhoneApps.es, is a screen shot of an email from the WhatsApp team to WhatsApp Beta app users, saying the beta would be pulled for a few hours prior to being updated, presumably due to a serious bug being found.
It is of note that WhatsApp did release an updated beta app soon afterwards.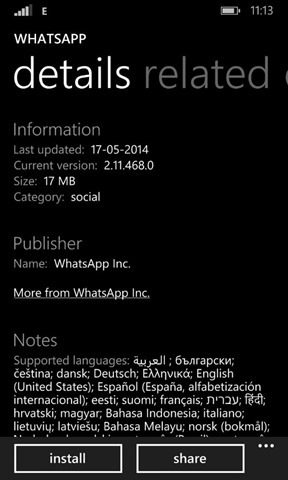 It could very well be that a serious bug is affecting the software, and that WhatsApp is currently awaiting approval from Microsoft for a new submission of the software.
If that is the case, we can only suggest Microsoft pull their finger out, as between 200,000 and 300,000 new Windows Phone users are searching the Windows Phone store for the first time, and not finding WhatsApp there may cause a significant proportion to be returned.
We have pinged WhatsApp, and are hoping for an official comment soon.
Update:  We have  now received an official statement from WhatsAPp's press relations spokesperson Neeraj Arora:
Thanks for your email. Unfortunately due to technical issues, we have chosen to un-publish WhatsApp Messenger on the Windows Phone platform. We are working  closely with Microsoft to resolve the issues and hope to return to the store shortly. We apologize to our users for the temporary inconvenience.

Thanks

neeraj