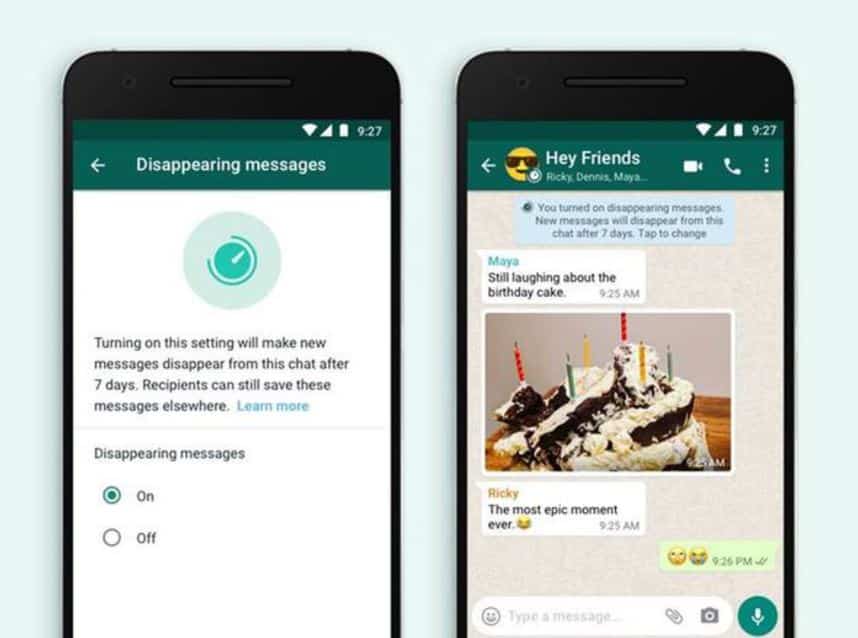 You can now send messages that disappear on WhatsApp by enabling disappearing messages. When you enable disappearing messages feature, new messages sent to a chat will disappear after 7 days. In private chat, either person can enable or disable disappearing messages while in groups, admins will have the control.
Here's how this feature will work:
If a user doesn't open WhatsApp in the seven day period, the message will disappear. However, the preview of the message might still be displayed in notifications until WhatsApp is opened.
When you reply to a message, the initial message is quoted. If you reply to a disappearing message, the quoted text might remain in the chat after seven days.
If a disappearing message is forwarded to a chat with disappearing messages off, the message won't disappear in the forwarded chat.
If a user creates a backup before a message disappears, the disappearing message will be included in the backup. Disappearing messages will be deleted when a user restores from a backup.
WhatsApp disappearing messages feature will be rolling out to users everywhere this month.
Source: WhatsApp