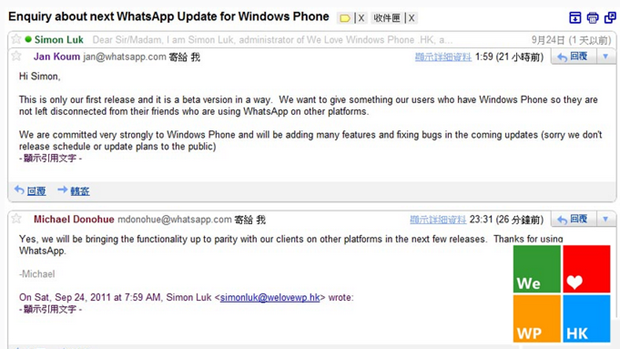 WhatsApp entered Marketplace yesterday, and while this resulted in great rejoicing it was also noticed that the app is pretty bare bones compared to other Windows Phone messaging apps and even WhatsApp apps on other platforms.
WhatsApp has however told WeLoveWP that their current release was closer to a beta than a full release, as they wanted the app to be available to Windows Phone 7.5 users as soon as possible.
They have however promised a string of updates to bring the software up to parity with other platforms.
Missing features at present include the ability to initiate Group Chats, searching contacts by typing, notification tones, black lists, server connection status and more.
It is nice to know these functions will be coming eventfully, even if WhatsApp would not quite give a time line for their updates.
If you are running Mango you can find the current version of WhatsApp in Marketplace here.
Read more at WLWP here.