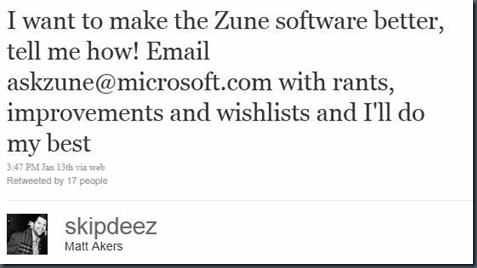 Matt Akers who cohosts the highly recommended Zune insider Podcast with Jessica Zahn, is asking for suggestions on how to make the Zune Software better. I have written in length (e.g. here and here) about the Zune software so I will repost some of my ideas here together with a few a culled from the comments and some tweets
add more indie artists unaffiliated with big labels, perhaps make it easy for them to be featured in the Zune marketplace, local event discovery tools and band promos, tour calendar with reminders and notifications when favored bands are playing in the area, a seamless way to purchase concert tickets and top it with lyrics and a karaoke feature that can be easily shared with friends
I would like a see a better location aware intelligence so that let say I'm in a new town, I can easily browse local live events featuring my favorite genres of music or artist but even better yet, a listing of my friends (who lived in that town) favorite local bands that may diverge from my everyday taste!
There in no way just to save individual podcast. It is either keep all or keep the latest (x) number. This is very important to me because especially when I'm writing a post, I oftentimes need to go back to an old podcast for reference, or there are some episodes I would just like to hold on for good.
Option for the event calendar for my favorite artists to be integrated into my Windows phone calendar so that I don't have to go to the Zune app to find out their latest tour dates.
The screenshots for Windows Phone 7 apps need to be a higher resolution and the correct orientation. I don't like having to crane my neck at 90 degrees to view a screenshot!
I know this doesn't directly relate to software but PLEASE!, can you ran some ads on TV show the Zune  software in action on  rather than just on the internet? Where are the ads touting the benefits of Zune Pass. Soon enough Apple, will come out with their subscription service and everyone will think they invented it.
Speed up the roll out of the marketplace to rest of the world. Give them at least access to the marketplace even if they can't have Zune pass due to licensing issues.
This goes with the point above, make the Zune HD available to the rest of the world.
Northerngeek had this to say on the comments
Battle of the Bands sponsored by Zune with all contestants song's uploaded to the marketplace after each "battle"- the most *hearted* songs advance… like the X-Factor or America's got Talent but without Simon Cowell!- Winners get entire albums on the Zune Marketplace and $XX,XXX. Microsoft gets publicity and software downloads with "the cool kids"… sorta. Advertise it on TV too.
Allow more interaction inside the social, implement a smartDJ feature for suggesting podcasts based on similar users and allow for episode discussions between users within the Zune software about specific podcasts- allowing Microcommunities to develop.
Sponsor festivals, especially in the UK these events are huge. Allow Zune Pass subscribers to download playlists containing all the relevant artists they could see to sample before they get there… even if they didn't sponsor the event they could easily do this but publicity would be better with a sponsor deal.
@MS_nerd had these suggestion on twitter
Needs Touch support: inertial scrolling, bigger controls. Merge WMP, WMC, Zune capabilities. Apps search, unify Zune HD/WP7 PC UIs
So now it is your turn. What improvements would you like to see on the Zune Software?